Sibu Town Square Commercial Centre
Located at the confluence of the Rejang and Igan Rivers, with an excellent view of the waterfront, Sibu Town Square Commercial Centre is the largest of its kind in Malaysia and is set to be the centre of attraction where all major town events are hosted. The integrated commercial area features over 100 units of shophouses, offices, hotel and much more. The entire area offers a panoramic view of the Rajang waterfront and promises to be the future heartbeat of Sibu town.
Accessibility and convenience are guaranteed factors of Sibu Town Square, with perfect capabilities for special events and celebrations.
Key Features
99 years leasehold
covered walkway guarantees accessibility through all shops
105 units of mostly 20′ x 68.9′ double frontage shops
1 unit of 8-storey budget hotel
1 unit of 8-storey office tower
1 unit of 6-storey office tower
Central location, perfect for drawing lively crowds to events and activities by the Sibu Municipal Council
Over 200 parking bays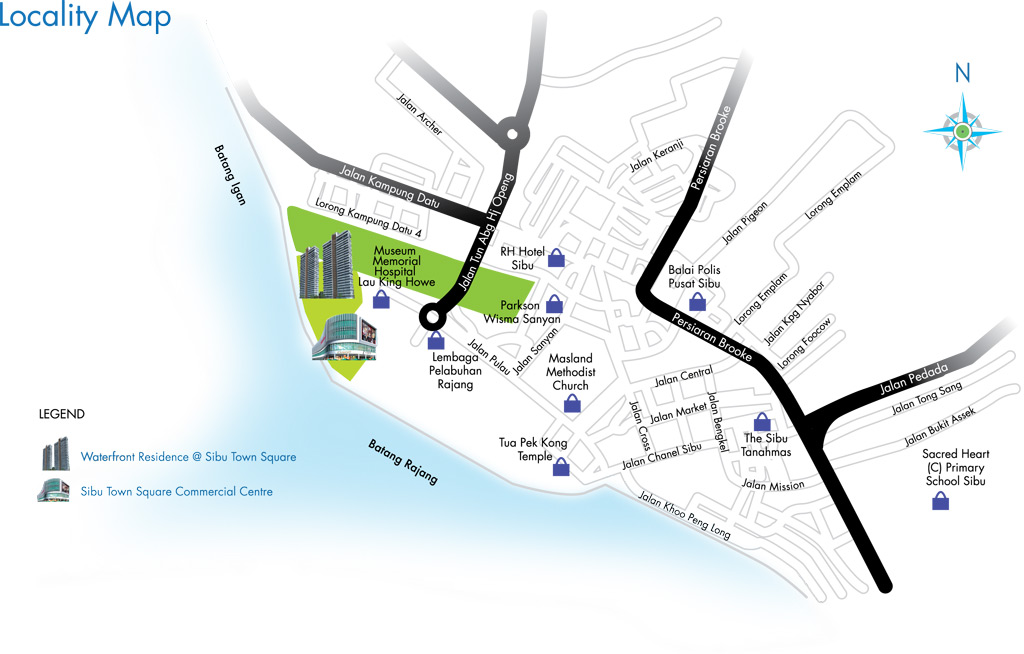 Specification
STRUCTURE
Reinforced concrete framework
ROOF
Selected metal deck complete with insulation & gypsum board ceiling.
CEILING
Exposed RC slab to ground and 1st floor commercial space & five-foot way.
FLOOR
Quality non-slip tiles to washrooms, kitchen and five foot way. Power floated conc. to all other area.
WALL FINISHES
Selected emulsion paint for internal & external walls. Ceramic tiles to washrooms to 1.5m high.
DOORS
Aluminium roller shutter at ground floor shop (both frontage) Fire rated main doors at staircase and water resistant doors to washrooms.
ALL WINDOWS
Aluminium windows with natural glass.
ELECTRICAL
Concealed wiring, socket points & switches.
PLUMBING
Concealed plumbing, vitreous china W.C. & wash basin.
STAIRCASE RAILING
Painted M.S. railing.
GRILLES TO A/C LEDGES
Natural anodised alum. grilles.